AON Reclaim Top Spot in Division A
Cannel Print knocked a hole in StoneArt's title hopes with a 3-2 away win in this weeks A League. StoneArt's top two players Jason Blue and Hamish Thornton enjoyed 3-0 wins against quality opposition. However the lower order all lost their matches. Ben Peach went back up the rankings with a 3-0 win over a higher ranked opponent. Young Oliver Wait had a five game battle with Steve Baker, his fitness telling in the end as he took the match 3-2. Rob Colquit stated badly but got stronger to take his match 3-1 and claim the winning bonus points for Cannel.
Team AON reclaimed the top spot in league A with a 4-1 win over the Crazies and now lead the league by only 8 points. Robin Crease and Mason McLarney both limited their opponents to only 17 and 16 points respectively in their 3-0 wins. Jason Crease lost the first game but as the match progressed he improved and became more dominant to take a 3-1 win. Chris Cave had a five game tussle with James Ramsey but just got the win. Crazies  only success came through the dependable Ashley Sandyford-Sykes who won 3-1 against Pat Fitzpatrick. These players have contrasting styles and treated the viewers to a great match.
Another week, another nip-and-tuck encounter in the B League. Island Tyres & Exhausts edged a topsy-turvy match with a makeshift Racketeers Pioneers 3-2, 213/182. The latter side were missing regulars Daf Lewis and Marc Taggart, but still pushed the title contenders hard thanks to wins from number one Rob Boyles and Barry Irvine, the latter edging past Mr Squash, Les Callow in five at five. Callow's Tyres' team-mates Shaun Wyllie, Liam Townsend and Magnus Lamprecht secured their side's decisive wins. Magnus beating Joe Burrows 3-2 as the Racketeers man made an impressive second-tier debut after shining in the C League this term.
Outcasts strengthened their league title hopes by gaining maximum points against a slightly weakened Junior Academy team, who were without their usual top player. Nathan Quilliam, Chris Cave, Toby Woolard and Pat Russell all obtained 3-0 wins and restricted their opponents to single figures in game scores. Ben Leith secured one game for the Juniors and was very competitive in his first two games against Mark Henson, however experience told in the end and Henson took the final two games convincingly.
Derivco Sharks secured their second win of the season against last years champions Crowe Dragons. Four of the matches ended in 3-1 scorelines with Dave O'Neill, James Ramsey and Baillie Watterson all getting victories for the Sharks. Dave had a particularly close match with Dragons captain Jon Shepherd but just got the result in the end. The Dragons victories came through number one player James Martin and Dave Hedley who bucked the trend by winning his match 3-0. 
The four top teams in Division C met this week. The first match up was Island Exhaust Vets against Buchanan & Pitts MIsfits. The Vets won the title last year but Misfits' squad has been strengthened considerably by new number one Toby Woolard who won his match 3-0. The other Misfits winner was Stephen Pitts who won 3-1. However Vets middle order trio of the ever-improving Richard Cretney, the everlasting Peter Sharples and the evergreen Les Callow were all victorious and ensured the win for Vets.
League leaders Hansard Racketeers were missing their top two players when they played Outcast Dragons. They are undefeated this season but they met their Waterloo in this encounter. Darren Smethurst, Phil Whittam and Andy McLarney all recorded 3-1 win for the Dragons and Fatheha Essa battled hard for a 3-2 win. Racketeers only success came through captain Matt Corlett who restored Racketeers pride winning the fifth game 15-12. Overall the points score was 247-192. The Dragons are now third, just one point behind the Vets, but Hansard Racketeers still top the league.      
The fixture between Dohle Stars and Dandara Falcons resulted in a first league win for Dohle. It was good to see Dohle's Brian Cowley back on court, following a break through injury and he looked like he'd never been away, taking a 3-1 victory. Harry Douthwaite played very well to win 3-1 and Dave Maddrell secured the bonus points with his 3-0 win. Sach Baniya was just edged out by Falcon Simon Jones and the other Falcon win was at number one where Julien Uzzell had three very close games with Wouter Schoeman then ran out an easy winner in the fourth game to take his match 3-1. 
The Junior Academy C team and Santander Racketeers Academy are two closely matched teams, which made for a great evening of squash. All five matches were hard fought with at least four games per match and a very high points tally for all players. There were some great comebacks from Racketeers' Jas Singh and Charlie Beard, both winning from 2-0 down. For the Juniors there were confident 3-1 wins from Harvey Douglas and Amaline Batty. The final win went to Santander Racketeers Martin Greenwood, who bagged the bonus points for his team. Prior to the bonus points being added the Juniors had a higher points score of 212-206, which just shows how close all matches were.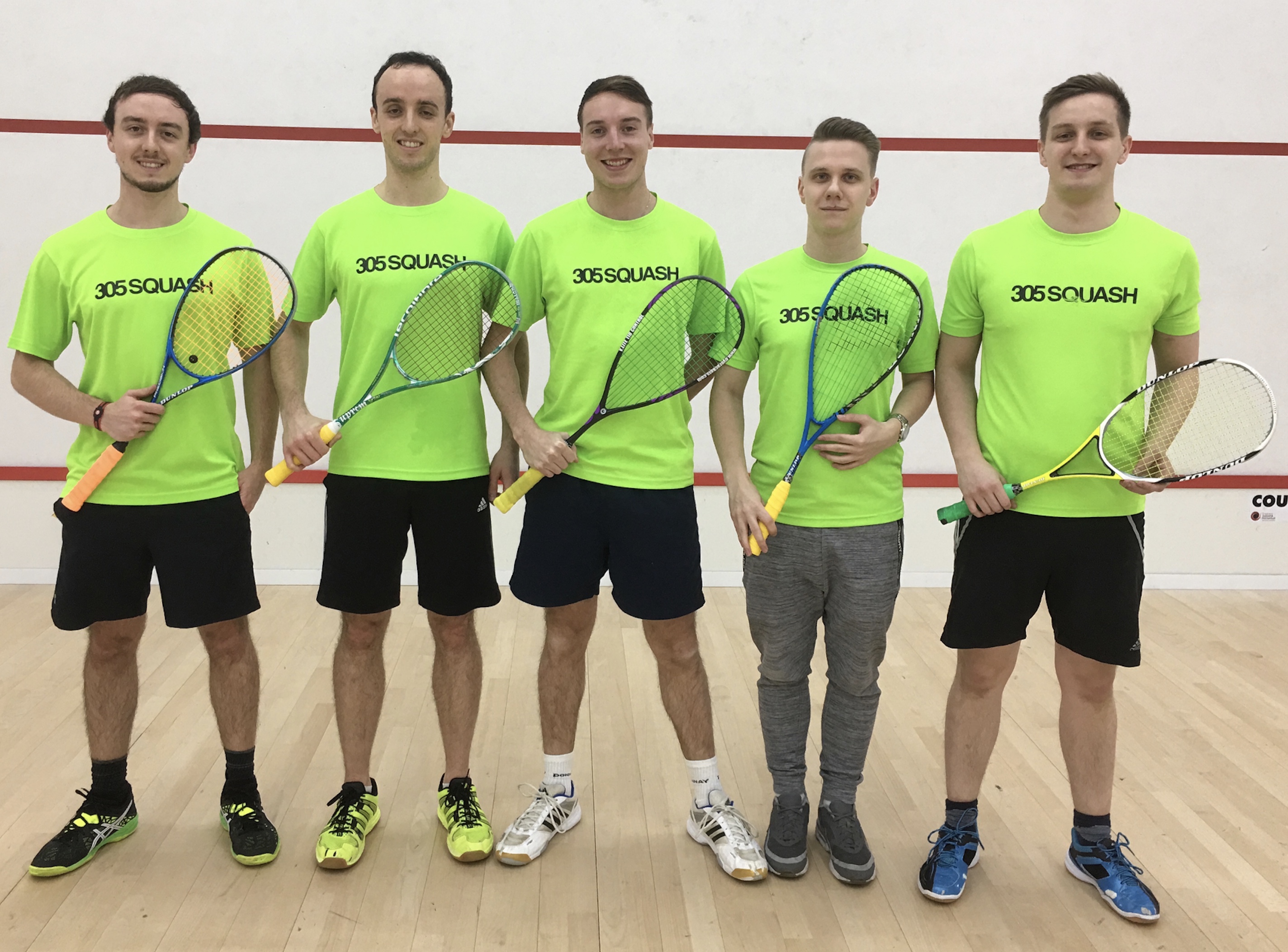 The picture above shows Team AON. From Left to Right –  Jason Crease, Robin Crease (Captain), Chris Cave, Pat Fitzpatrick and Mason McLarney